SPEAKER I IN IPMV 2024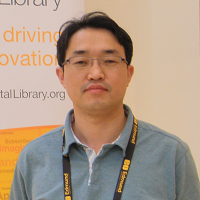 Prof. Seokwon Yeom, Daegu University Gyeongsan, South Korea
Title of the speech: Drone application for search and rescue mission
Seokwon Yeom has been a faculty member of Daegu University since 2007. He is now a full professor of the same university, School of AI. He has a Ph.D. in Electrical and Computer Engineering from the University of Connecticut in 2006. 
His research interests are intelligent image/optical information processing, deep/machine learning, and target tracking. He has researched on multiple target tracking for the airborne early warning system, three-dimensional image processing with digital holography and integral imaging, photon-counting linear discriminant analysis and photon-counting nonlinear matched filter, millimeter wave and infrared image analysis, and long-distance target tracking for aerial surveillance and search and rescue mission with a small unmanned aerial vehicle.  
He has been a guest editor of Applied Sciences and Drones in MDPI. He has served as a board member of the Korean Institute of Intelligent Systems, and a member of the board of directors of the Korean Institute of Convergence Signal Processing. He was program chair of ICCCS2015, ISIS2017, iFUZZY2018, ICCCS2019, ADIP2021-2023, IPMV2024. He was a vice director of the AI homecare center and a head of the department of IT convergence engineering at Daegu University in 2020, a visiting scholar at the University of Maryland in 2014, and a director of the Gyeongbuk techno-park specialization center in 2013.
SPEAKER II IN IPMV 2024